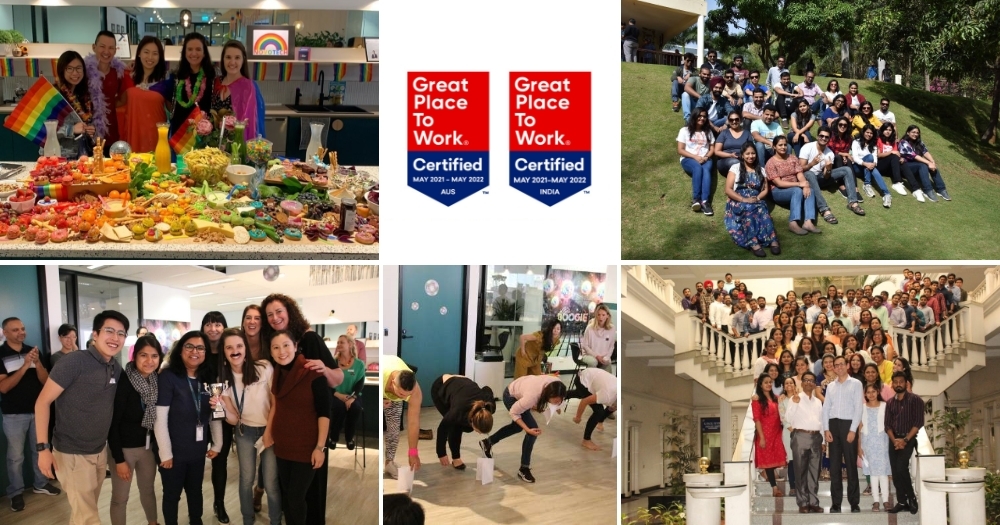 Sydney - Australia – Novotech, the largest biotech specialist CRO in the Asia-Pacific region, has again been certified as a Great Workplace by the leading workplace culture organization The Great Place to Work® Institute. 
This follows a comprehensive evaluation including a culture audit and staff survey.
On receiving the certification, Novotech CEO Dr. John Moller said:
"It is fantastic to be certified for another year as a Great Workplace in Australia and for the first time in India. It is important that our employees value the time and focus invested in areas like workplace flexibility, information transparency, gender equality and equal opportunity, professional development, and support for employees when they need it the most.
The work we do impacts millions of people around the world and we need the best and brightest minds. Novotech is absolutely committed to creating an exceptional workplace to support our teams."
Novotech's Chief People Officer Angela Edwardson said:
"We are delighted that Novotech has been –certified as a Great Workplace for a second year. 
This achievement reflects our continued commitment to all our team members to build a rewarding and exciting career with diverse and interesting opportunities. 
Our continued focus on building a flexible workplace means team members are also able to balance their personal responsibilities with work during all stages of life. 
Our talented leaders are dedicated to implementing this philosophy and ensuring Novotech is a great place to work for everyone."
Novotech's Director Global Services Center Sanjay Kabra said:
"We are proud to be Certified as a Great Workplace. Flexibility, transparency, inclusion, diversity, gender equality, and work-life balance are not mere words but are the DNA of this organization. 
In reciprocation we as employees give more than 100% to the organization. This certification as a Great Workplace is the result of this reciprocation. I am sure we will be able to keep attracting the best talent available in the industry."
Novotech has a strong focus on equality and inclusion in the workplace and has also received the Employer of Choice for Gender Equality citation from the Workplace Gender Equality Agency. 
Some of our key initiatives in this area include:
A workplace flexibility and employment equality Steering Group chaired by the CEO, with senior executive participants and broad employee representation.
Pay equity targets for men and women at all levels in the organization.
Strong levels of female participation in the leadership of Novotech.
Mechanisms to ensure removal of biases in hiring, training opportunities, bonuses and promotion decision making.
Flexible work options for employees.
Media contact
David James
Media Coordinator
Novotech is internationally recognized as the leading Asia Pacific centred Biotech Contract Research Organization (CRO) with global execution capabilities.
Novotech is a clinical CRO with labs, phase I facilities, drug development consulting services and FDA regulatory expertise and has experience in over 5,000 clinical projects, including Phase I to Phase IV clinical trials and bioequivalence studies. Novotech is positioned to serve biotech clients conducting clinical trials in Asia Pacific, the US and Europe. Novotech has over 3000 staff globally and 34 office locations.
For more information visit https://novotech-cro.com/contact