Novotech Backs GoGive1 Vaccine Campaign as Part of Company-wide COVID Safe Workplace Initiative
Novotech Backs GoGive1 Vaccine Campaign as Part of Company-wide COVID Safe Workplace Initiative
Hong Kong - Novotech, a leading biotech specialist CRO in the Asia-Pacific region, with more than 2,000 staff globally, has joined the GoGive1 campaign, where for every fully vaccinated team member a vaccine is donated to a person in a lower income country.
A recent company-wide survey showed 95% of team members have had at least 1 dose or plan to be vaccinated. 
Novotech joined the GoGive1 campaign, backed by the WHO Foundation and GAVI, as part of the company's COVID-19 safe workplace initiative.
The Novotech workplace policy requires team members who work in the office, visit sites or travel to provide evidence that they have been fully vaccinated. 
Novotech CEO John Moller said:
"Providing a safe working environment for staff is a priority for all employers around the world, and at Novotech we have an additional duty to protect the healthcare workers and patients at the sites we visit.
Our COVID-19 vaccination policy supports our objective of reaching full vaccination across the company.  
Our approach considers local vaccine availability and rollout, and we are funding vaccinations for Team Members where there is limited government support or to accelerate the vaccination process. 
As part of this program, Novotech is donating one vaccine for every fully vaccinated team member, to a lower income country via the WHO and GAVI GoGive1 initiative."
Novotech's Chief People Officer, Angela Edwardson said:
"Since vaccines have become available, we have strongly encouraged our Team Members to get vaccinated. 
We have overwhelming support for our company policy that employees should be fully vaccinated on their return to the office. Meanwhile our flexible work options will also allow unvaccinated employees to work remotely as we transition. 
We look forward to welcoming teams back to the office as restrictions ease across our regions." 
Our key initiatives
Novotech is funding vaccination for team members in countries that have limited government support, or to accelerate the vaccination process. 
Team members who work in the office, visit sites or travel will need to provide evidence that they have been fully vaccinated or have received a negative test result. 
Policy implementation will be phased and dependent on vaccine rollout and availability in each location 
Novotech's flexible working options facilitate Team Members to receive their vaccinations during normal working hours 
Novotech's vaccine donation and matching programs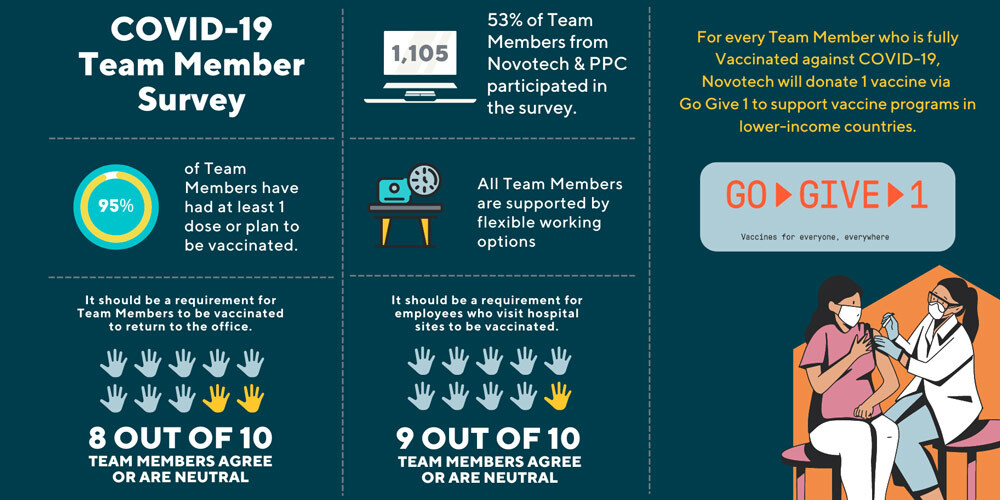 Go Give 1 incentive program 
For every fully vaccinated team member, Novotech will donate 1 Vaccine via the GoGive1 program. GoGive1 was created by the WHO Foundation and GAVI (https://www.gavi.org/gavi-covax-amc). Novotech has the potential to contribute over 2,000 vaccinations via this program
Donation Matching Program 
In May 2021, Novotech ran a donation matching initiative, matching all employee donations to Care.org, to provide urgent funding to India during the peak of their COVID-19 outbreak.
Media Contact
David James
communications@novotech-cro.com
AU: +61 2 8218 2144 
USA: +1 415 951 3228
Asia: +65 3159 3427
About Novotech Health Holdings 
Novotech Health Holdings Pte. Ltd. ("Novotech Holdings") is a leading Asia-Pacific biotech specialist CRO and consists of two operating brands, Novotech and PPC. Novotech Holdings is a CRO with integrated labs and phase I facilities providing drug development consulting and clinical development services. It has been instrumental in the success of approximately 3,700 clinical trials across all trial phases and broad range of therapeutic areas. Novotech Holdings is well positioned to serve biopharmaceutical clients conducting clinical trials in Asia and globally. 
For more information, visit https://novotech-holdings.com/