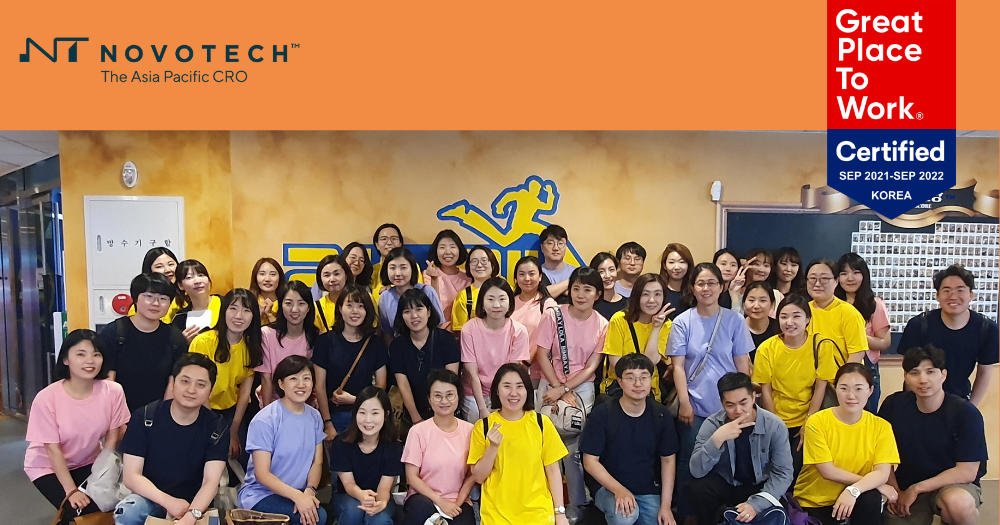 Seoul – South Korea – Novotech, a biotech specialist CRO in the Asia-Pacific region, has again been certified as a Great Workplace by the leading workplace culture organization The Great Place to Work® Institute. 
This follows a comprehensive evaluation including a culture audit and staff survey. Novotech Korea joins teams in Australia, India and Taiwan who have also received workplace culture awards in 2021. 
On receiving the certification, Novotech CEO Dr. John Moller said:
"It is fantastic that our workplace in Korea joins the increasing number of Novotech offices to be recognised as a Great Workplace. Our employees value the time and focus invested in areas like workplace flexibility, information transparency, gender equality and equal opportunity, professional development, and support for employees when they need it the most.
The work we do impacts millions of people around the world and we need the best and brightest minds. Novotech is absolutely committed to creating an exceptional workplace to support our teams."
Novotech's Chief People Officer Angela Edwardson said:
"We are delighted that Novotech Korea has been certified as a Great Workplace for the first time.
This achievement reflects our continued commitment to all our team members to build a rewarding and exciting career with diverse and interesting opportunities. 
Our continued focus on building a flexible workplace means team members are also able to balance their personal responsibilities with work during all stages of life. 
Our talented leaders are dedicated to implementing this philosophy and ensuring Novotech is a great place to work for everyone."
Novotech's Executive Director of Asia Operations, Yooni Kim said:
"Employees are the most valuable assets of a company.  Novotech is always dedicated to improving our working environment and enhance employee health and wellbeing. We are more than grateful to receive this recognition." 
Operations Director for South Korea, Michelle Park, said: 
"I'm so excited we've received GPTW certification for the first time in South Korea. It's more meaningful for us as our colleagues feel our workplace is secure, safe, comfortable and a great place to work – and it's proven with this certificate. This is attractive and promising, not only for our colleagues but for anyone who is interested in joining Novotech, how we pay attention to our employees' wellness and happiness to make their working environment better place!"
Novotech has a strong focus on equality and inclusion in the workplace and has also received the Employer of Choice for Gender Equality citation from the Workplace Gender Equality Agency. 
Some of our key initiatives in this area include:
A workplace flexibility and employment equality Steering Group chaired by the CEO, with senior executive participants and broad employee representation.
Pay equity targets for men and women at all levels in the organization.
Strong levels of female participation in the leadership of Novotech.
Mechanisms to ensure removal of biases in hiring, training opportunities, bonuses and promotion decision making.
Flexible work options for employees.
About Novotech Health Holdings 
Novotech Health Holdings Pte. Ltd. ("Novotech Holdings") is a leading Asia-Pacific biotech specialist CRO and consists of two operating brands, Novotech and PPC. Novotech Holdings is a CRO with integrated labs and phase I facilities providing drug development consulting and clinical development services. It has been instrumental in the success of approximately 3,700 clinical trials across all trial phases and broad range of therapeutic areas. Novotech Holdings is well positioned to serve biopharmaceutical clients conducting clinical trials in Asia and globally. 
To find out more about a career with Novotech please visit: novotech-cro.com/careers