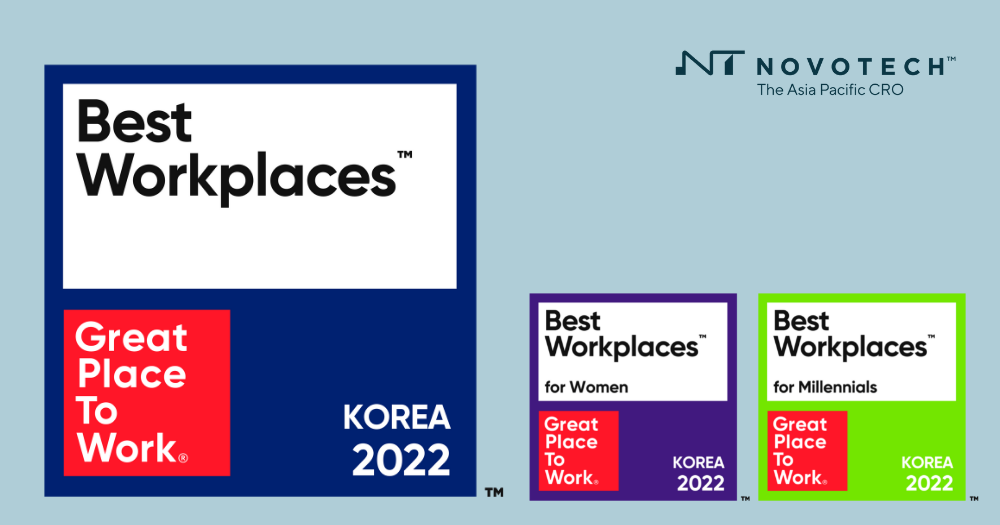 Novotech, a leading biotech specialist CRO in the Asia-Pacific region, has been additionally awarded in a total of five categories, including the Top 100 best workplaces by The Great Place to Work® Institute.
The additional certification categorizes that Novotech receives are as follows.
Best workplaces (Top 100)
Best workplaces for Women
Best workplaces for Millennials
Most respected CEO in Korea – Dr. John Moller
GPTW innovative HR leader - Angela Edwardson
Novotech has a strong focus on inclusive culture and looks always for ways to improve and remain a leader in workplace flexibility and gender equality. Our values, policies and benefits contribute to a workplace culture that reflects the connection our people have with their work.
Chief People Officer, Angela Edwardson said, "We offer our team members ownership of their role, and we trust them to deliver. It is the commitment and passion of our people that makes our flexible workplace successful."
Novotech Chief Executive Officer, Dr. John Moller said, "The continuous growth and success of our company means our contributions will deliver better health outcomes for more people. I am honored to be recognised in these awards and to have the trust of the people at Novotech. Building on the foundations of equal opportunity, gender equality and inclusive work practices we can continue to attract and support growth for the best people in our industry".
Sanghee Kim, Korea Country Managing Director said, "The flexible and supportive culture of Novotech is the basis for employees to trust each other and work passionately, providing better services to our customers and contributing to the enhancement of public health. We are honored and grateful to be recognized and awarded."
Novotech has recently been ranked in the Top 10 global CROs in the 2021 CenterWatch Global Site Relationship Benchmark Survey and ranked in the top 3 CROs in South Korea by the number of IND approvals from MFDS over the past 2 years and in Novotech Korea is a fast-growing organisation with young leaders who are committed to unlocking talent in their teams and open engagement to build a kind, friendly and supportive culture. As Novotech Korea continues to focus on growth including clinical trial size, type, quality, and growing our reputation for excellence and will continue to best serve our clients, patients, and our fellow employees.
About Novotech Health Holdings
Novotech is internationally recognized as the leading regional full-service contract research organization (CRO) in Asia-Pacific and has been instrumental in the success of over 3,700 Phase I - IV clinical trials for biotechnology companies. Novotech was established in 1996, with offices in 11 locations across the region, and 45 site partnerships with major health, institutions.
Novotech provides clinical development services across all clinical trial phases and therapeutic areas, and as a true clinical development partner, Novotech offers an in-house and integrated global product development and regulatory affairs consultancy, BioDesk. BioDesk can intelligently guide client's products from bench to market through CMC/manufacturing, toxicology, clinical and regulatory affairs consulting services.
We work in a fast paced and adaptable environment allowing us to bring best in class solutions and services to our clients. We set a high benchmark for clinical trial operations by listening carefully, allocating Asia Pacific's best people and talent, and leveraging best in class platforms, technology, systems and processes to meet our client's clinical program goals and ultimately improve patient lives.
For more information visit https://novotech-cro.com