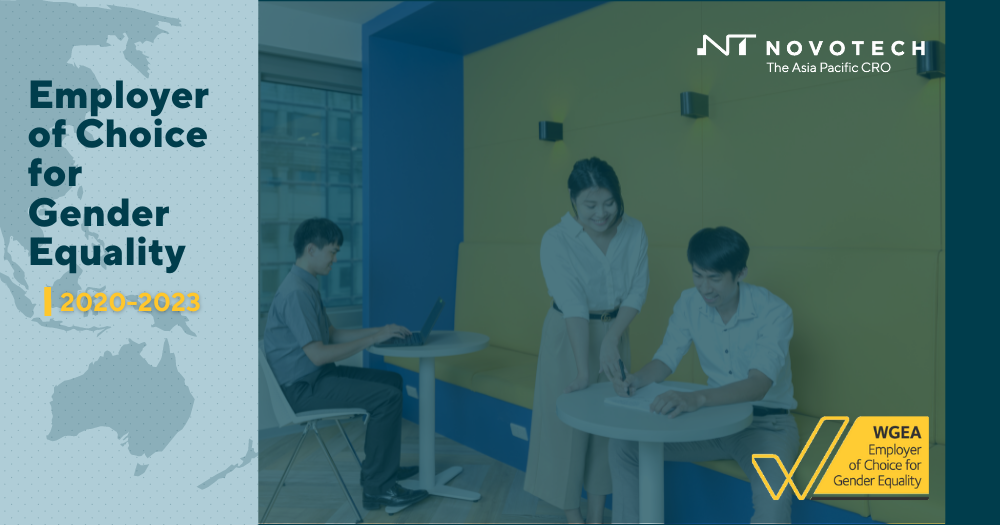 Sydney - Australia – Novotech, the leading Asia Pacific biotech specialist CRO, has been re-certified by the Workplace Gender Equality Agency (WGEA) as a WGEA Employer of Choice for Gender Equality (EOCGE).
The Employer of Choice for Gender Equality (EOCGE) citation is a voluntary leading practice recognition program designed to encourage, recognize and promote organizations' active commitment to achieving gender equality in Australian workplaces.
WGEA Director, Mary Wooldridge said, "each year, we accept applications for our WGEA Employer of Choice for Gender Equality (EOCGE) citation from those employers who are raising the bar when it comes to driving change, creating the circumstances that allow all people, regardless of their gender, to thrive.
"After passing through our evidence-based benchmarking evaluations, our EOCGE citation holders are officially recognized as some of the best employers in Australia who are committed and dedicated to action in achieving gender equality.
They said, "critically Novotech is delivering on a formula that sees better support structures in place for working families; stronger actions to address pay inequalities; and strategic recruitment and promotion practices that help to encourage the full participation of women at work.
Dr John Moller, CEO of Novotech Holdings, said: "We are proud and excited to be re-certified by the WGEA as an Employer of Choice for Gender Equality as it demonstrates the hard work and passion of our leadership team and employee consulting group to drive our diversity and inclusion agenda forward."
"I am absolutely committed to our diversity and inclusion agenda and extending our practices to all Novotech office locations worldwide. Our next phase of work will focus on diversity and inclusion initiatives for gender equality to influence sustainable change across our sector."
Angela Edwardson, Chief People Officer of Novotech Holdings, said: "As we continue to grow, our commitment to gender equality and our inclusive workplace culture remains a key priority for all Leaders and their Teams. The practices and initiatives we have implemented as a WGEA Employer of Choice for Gender Equality do more than tick a box, they guide the way we work, our mindset for the future, and help us build a workplace we can all be proud of."
Of the 120 employers in Australia to receive the WGEA Employer of Choice for Gender Equality citation, Novotech is one of only 90 employers to be re-certified this year. WGEA Director, Mary Wooldridge extends "congratulations to these leading employers and look forward to working with them closely to accelerate positive change across Australian workplaces".
Novotech remains committed to achieving a 0% gender pay gap in Australia by 2025 and aims to further its commitment to diversity and inclusion by:
Engaging our Diversity and Equality Employee Consulting Group, chaired by the CPO to develop new initiatives for inclusion across all regions.
Harmonization of parental leave benefits for all parents.
Proactively review and maintain pay equity for men and women at all levels in the organization.
Evolve mechanisms to ensure the removal of biases in hiring, training opportunities, bonuses, and promotion decision-making.
Developing new initiatives across cultural background, LGBTIQ+, disability, and caring, to ensure our workplace is safe and inclusive for all.
Influencing change across our industry to increase awareness of careers in clinical trials.