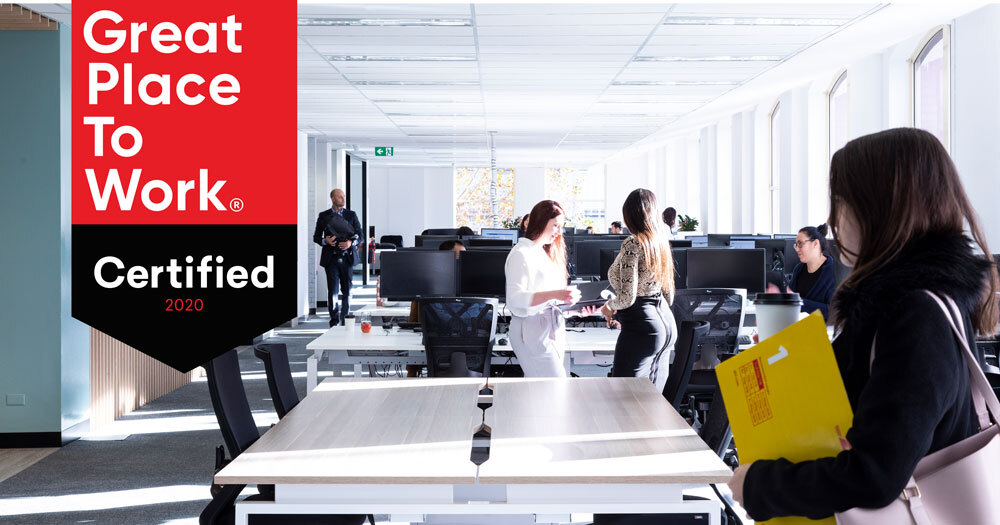 Sydney - Australia – Novotech, the largest biotech specialist CRO in the Asia-Pacific, has been certified as a 'Great Workplace 2020' by the leading workplace culture organization The Great Place to Work® Institute. This follows a comprehensive evaluation including a culture audit and staff survey.
On receiving the certification, Novotech CEO Dr John Moller said:
"This workplace award is important for us because it recognizes the enormous investments we are making across our people and culture agenda. The Novotech team works across many different locations, cultures and languages to deliver high quality clinical trials for our biotech clients.
Novotech is absolutely committed to creating an exceptional workplace. Over the last 12 months we have focused on a number of areas including workplace flexibility, information transparency, gender equality, professional development and our physical environment.
As further validation of our work, in February we also received the prestigious WGEA Employer of Choice for Gender Equality award.
Novotech employee numbers across the Asia-Pacific have grown by +20% in the last 12 months driven by biotech client demand for an experienced regional CRO.
Since the COVID crisis, Novotech has seen an even stronger demand for clinical trial support in Asia-Pacific, where sites are managing the crisis efficiently to ensure trial continuity."
Novotech also has one of the highest levels of customer loyalty in the CRO sector as measured by the Net Promoter score which has consistently shown very high levels of client engagement. The Great Place to Work® Institute staff survey evaluated the Novotech team across 5 key dimensions: Credibility, Respect, Fairness, Pride, and Camaraderie. While the Culture Audit included an in-depth review of Novotech's overall environment to evaluate how the company encouraged staff to give their personal best, work together as a team and help them achieve organizational objectives.
Novotech Director of Human Resources Angela Edwardson said:
"Novotech is now at over 750 staff across the Asia-Pacific region and growing, in fact we have recently opened up more than 100 positions including Project Manager, Clinical Research Associate, and Clinical Data Associate roles. ( See Novotech Careers )
This 'Great Workplace' certification, along with our WGEA Employer of Choice for Gender Equality award, is recognition of a real team effort.
It says our corporate culture is strong and aligned with our team across the Asia-Pacific region, and we are delivering on key metrics that make Novotech a rewarding and exciting place to work."
Novotech also has a strong focus on equality in the workplace with a majority of Novotech's executive committee members being women and a majority of Novotech local leaders in Asia are women.
Some of the key initiatives Novotech has undertaken in this area include:
A workplace flexibility and employment equality Steering Group chaired by the CEO, with senior executive participants and broad employee representation.
Pay equity targets for men and women at all levels in the organization.
Strong levels of female participation in the leadership of Novotech.
Mechanisms to ensure removal of biases in hiring, training opportunities, bonuses and promotion decision making.
Flexible work options for all employees.