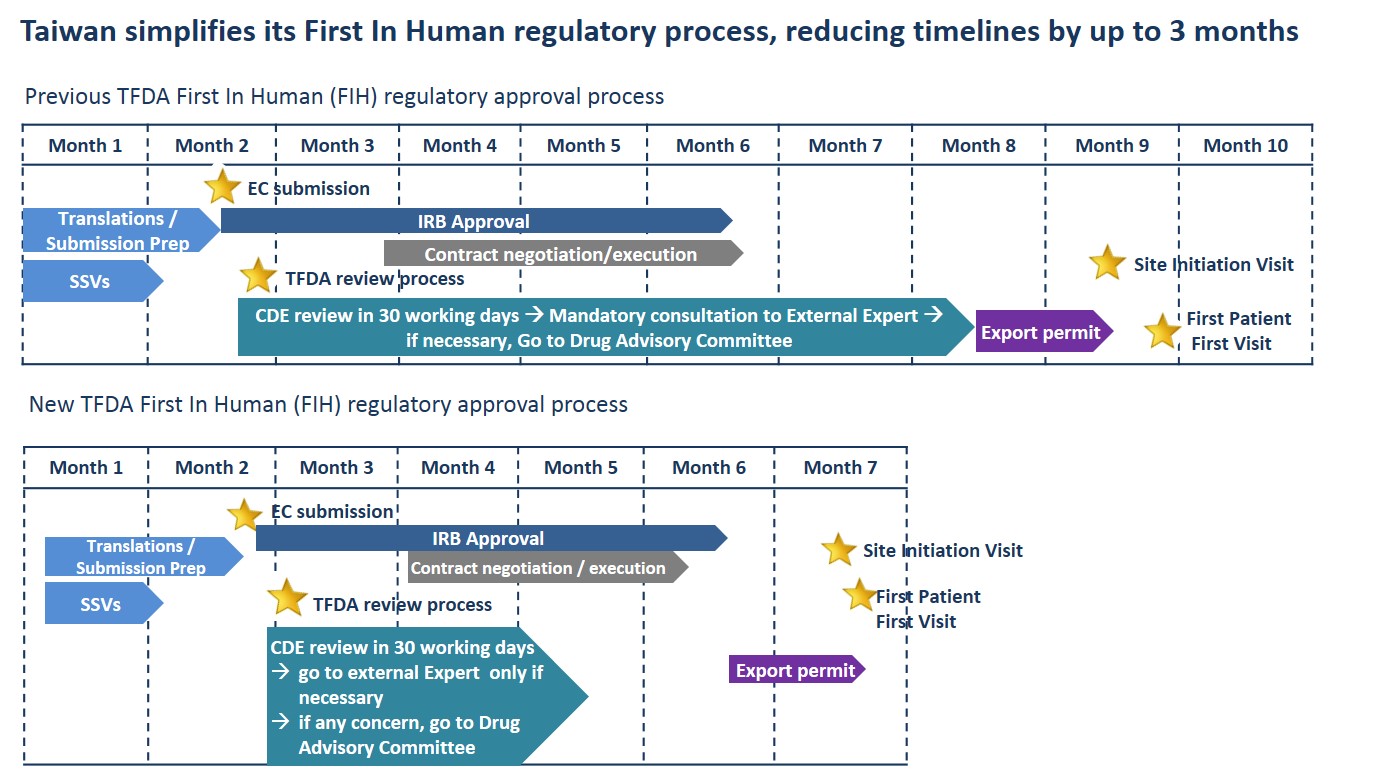 The Taiwanese Ministry for Health and Welfare Food and Drug Administration (TFDA) recently announced it has simplified its First In Human (FIH) regulatory approval process; with the revised process reducing timelines from 120 days to just 30 business days.
In its revision of the FIH approval process, the TFDA has made the mandatory review of submissions by an External Expert or a Drug Advisory Committee only necessary if considered by the Centre for Drug Evaluation (CDE). CDE is then able to submit directly to the TFDA for final decision. 
Commenting on the changes Novotech CRO Executive Director Dr Yooni Kim said,"By empowering CDE's role within the approval process, the TFDA has been able to remove several stages responsible for stretching out timelines."
"While this streamlining has reduced timelines, it has increased sponsors' responsibility to provide detailed submissions – to ensure the CDE does not feel the need to defer to external consultation," explained Dr Kim, "This why working with a regional CRO with a foothold in Taiwan, who understands Taiwan's changing regulatory environment and the effect of these changes may have on submission requirements can make all the difference to the success of your clinical trial in Asia." 
With 13 offices in 11 countries throughout in the Asia Pacific, Novotech actively works with each country's regulatory authorities and key clinical trial centres to improve approval processes and timelines. Novotech continues to grow within the region, having recently launched of its site monitoring (SMO) business to support clinical trial activity in South Korea and Taiwan. 
_______________  
For more information about the untapped clinical trial benefits available in Asia, download a free copy of the Frost & Sullivan white papers, 'Asia: Preferred Destination for Clinical Trials' or feel free to contact us.
About Novotech - www.novotech-cro.com 
Headquartered in Sydney, Novotech is internationally recognised as the leading regional full-service contract research organisation (CRO). With a focus on clinical monitoring, Novotech has been instrumental in the success of hundreds of Phase I - IV clinical trials in the Asia Pacific region. Novotech provides clinical development services across all clinical trial phases and therapeutic areas including: feasibility assessments; ethics committee and regulatory submissions, data management, statistical analysis, medical monitoring, safety services, central lab services, report write-up to ICH requirements, project and vendor management. Novotech's strong Asia Pacific presence included running clinical trials in all key regional markets. Novotech also has worldwide reach through the company's network of strategic partners. 
For RFP enquiries: Please fill out the form available at www.novotech-cro.com/contact-us
Corporate enquiries: Please contact Marketing & Communications Manager Justine Lamond on +61 2 8569 1458 or communications@novotech-cro.com