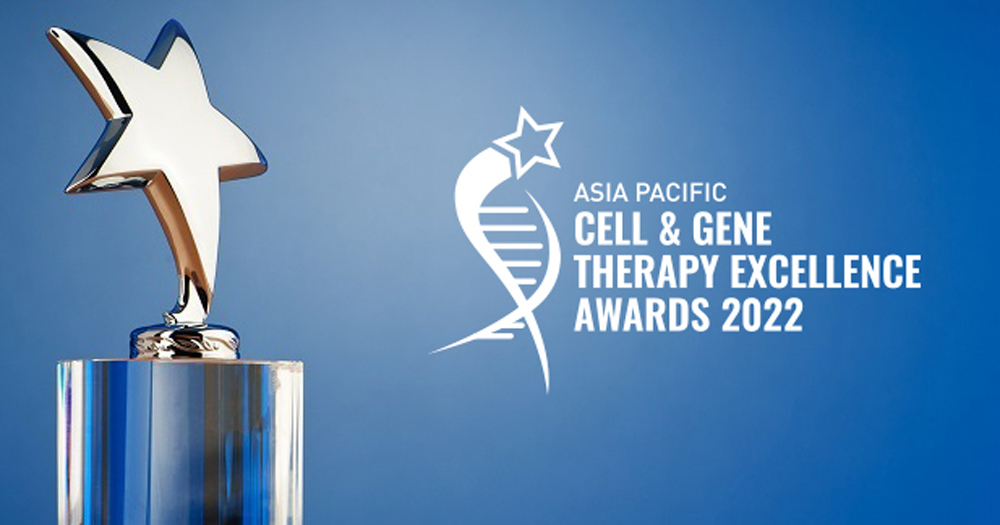 Novotech, the leading Asia Pacific biotech specialist CRO, has been awarded the Cell & Gene Therapy Clinical Trials award at the 6th Cell & Gene Therapy World Asia 2022 conference.
Novotech has extensive experience in cell & gene therapy clinical trials across Asia Pacific.
The Asia Pacific accounts for over a third of cell & gene therapy trial activity with China being the leading location in APAC. 
In addition, APAC has nearly a 50% faster growth rate in cell & gene therapy trials than ROW. 
Blood cancers (ALL, NHL, DLBCL, lymphomas), solid tumors, viral infections, liver and gastrointestinal tract cancers are the top indications in China-based cell & gene therapy trials between 2016 and 2021.  
Watch our recent Endpoints News webinar for more information:
EVOLUTION OF CELL & GENE THERAPY IN CHINA: THE CASE FOR UNIVERSAL CAR-T
The award was presented to Novotech during the 6th Cell & Gene Therapy World Asia 2022 conference (14th – 15th September) at the Sheraton Towers, Singapore.
Novotech CEO Dr. John Moller said we are extremely pleased our team has been recognized with this prestigious award at the 6th Cell & Gene Therapy World Asia 2022 conference.
"Cell & gene therapy is driving recent innovations in biotech and it is an honour to be recognized as the CRO at the forefront in Asia-Pacific supporting this vital clinical research.
Cell & gene therapy research typically presents another level of complexity and regulatory processes which means an experienced CRO partner is vital. 
Our deep experience, exceptional site and investigator relationships - which also translates to patent access - our project management approach focused on problem-solving, ownership and flexibility, and our investments in data and technology combine to deliver the service biotechs need in this specialist sector for success."
 
Novotech has recently also been benchmarked as a top 10 CRO among the world's leading CROs, and has signed 45 Leading Site Partnership agreements over the last 3 years.
Download our latest data reports here:
EVOLUTION OF CLINICAL TRIALS IN THE ASIA PACIFIC REGION COMPARED TO THE US AND THE EU5
Media contact
David James
Media Coordinator
Novotech is internationally recognized as the leading Asia Pacific centred Biotech Contract Research Organization (CRO) with global execution capabilities.
Novotech is a clinical CRO with labs, phase I facilities, drug development consulting services and FDA regulatory expertise and has experience in over 5,000 clinical projects, including Phase I to Phase IV clinical trials and bioequivalence studies. Novotech is positioned to serve biotech clients conducting clinical trials in Asia Pacific, the US and Europe. Novotech has over 3000 staff globally and 34 office locations.
For more information visit https://novotech-cro.com/contact