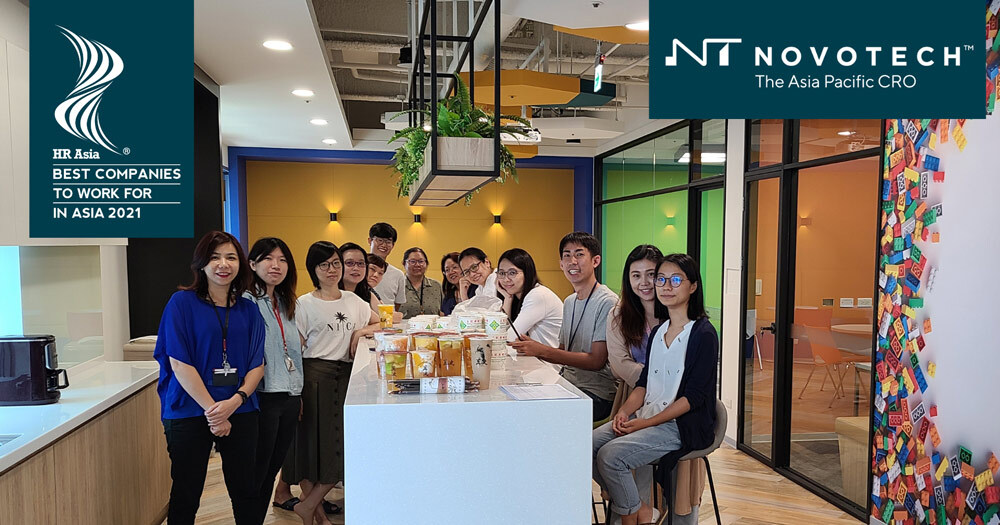 Taipei, 7 September 2021 — Novotech, a leading biotech specialist CRO in the Asia-Pacific region, has been recognised as one of the Best Companies to Work for in Asia 2021 (Taiwan Edition), and awarded the WeCare: HR Asia Most Caring Companies Award 2021.
Novotech was one of 292 companies who took part in the Total Engagement Assessment Model (Team) process this year that surveyed a total of 22,500 employees across Taiwan. 
ON BEING ONE OF THE 94 COMPANIES TO RECEIVE RECOGNITION, NOVOTECH CEO, JOHN MOLLER SAID: 
"Our team in Taiwan continues to grow, and this award is fantastic recognition of the contributions our Leaders and Team Members have made to our workplace culture. Our employees value the time and focus invested in areas like workplace flexibility, information transparency, gender equality and equal opportunity, professional development, and support for employees when they need it the most.
Being recognised as one of the Best Companies to Work for in Taiwan, and as one of the Most Caring Companies, shows the work we have been doing is valued. 
The work we do impacts millions of people around the world and we need the best and brightest minds. Novotech is absolutely committed to creating an exceptional workplace to support our teams."
ON RECEIVING THE RECOGNITIONON BEING ONE OF ONLY TEN ORGANISATIONS TO RECEIVE THE WECARE CERTIFICATION, YOONI KIM, EXECUTIVE DIRECTOR OF ASIA OPERATIONS SAID:
"The best company and WeCare awards are very important because of the employee recognition.  Employees are the most valuable assets of a company.  Novotech is always dedicated to improving our working environment and enhance employee health and wellbeing.  We are more than grateful to receive these awards." 
Novotech has continued to deliver on building a remarkable company culture across Asia-Pacific receiving workplace culture and gender equality recognition in Australia, India and Korea. 
ON TAIWAN JOINING THE TEAMS RECEIVING RECOGNITION – ANGEL HUANG, TAIWAN OPERATIONS DIRECTOR, SAID: 
"Employee safety is our top priority.  Flexible and remote work was introduced and first implemented in Taiwan last January, right after Taiwan had the first coronavirus confirmed infection case, and we have worked very hard to provide a safe and flexible environment with open communication for our employees to develop their career. This award confirms that Novotech is a truly caring company and moving towards the right direction. 
It proves we made a great choice!"
NOVOTECH'S CHIEF PEOPLE OFFICER, ANGELA EDWARDSON, SAID: 
"We are delighted that Novotech has been recognised as one of the Best Companies to Work For, and one of the Most Caring Companies in Taiwan. This achievement reflects our continued commitment to all our team members to build a rewarding and exciting career with diverse and interesting opportunities. 
Our continued focus on building a flexible workplace means team members are also able to balance their personal responsibilities with work during all stages of life. Our talented leaders are dedicated to implementing this philosophy and ensuring Novotech is a great place to work for everyone."
ABOUT NOVOTECH HEALTH HOLDINGS 
Novotech Health Holdings Pte. Ltd. ("Novotech Holdings") is a leading Asia-Pacific biotech specialist CRO and consists of two operating brands, Novotech and PPC. Novotech Holdings is a full-service CRO with integrated labs and phase I facilities providing drug development consulting and clinical development services. It has been instrumental in the success of approximately 3,700 clinical trials across all trial phases and broad range of therapeutic areas. Novotech Holdings is uniquely positioned to serve biopharmaceutical clients conducting clinical trials in Asia and globally. As of March 31, 2021, we had a total of 1,765 FTEs working across our offices in 11 geographies in Asia-Pacific and the United States.
For more information, visit https://novotech-holdings.com 
ABOUT THE AWARDS
The HR Asia Best Companies to Work for in Asia Awards is an awards recognition programme for organisations that have been identified by their employees as one of Asia's employers of choice and ascertains the best employers to work for. The award is targeted at companies across Asia and recognises companies with the best HR practices and which demonstrate high levels of employee engagement and excellent workplace cultures. 
The awards will cover 11 markets across the region: China, Hong Kong, Indonesia, Malaysia, Philippines, Singapore, Thailand, Taiwan, Cambodia, South Korea and Vietnam.