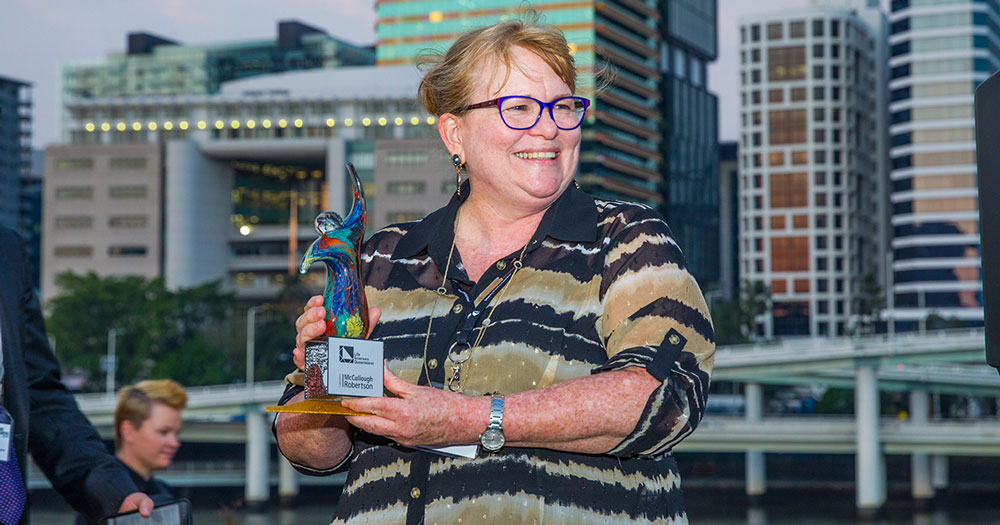 Clinical Network Services, a subsidiary of Novotech, the Asia-Pacific CRO, was awarded a prestigious GENE Award for Industry Excellence during a ceremony last week.
The award recognizes Clinical Network Services and its consulting division BioDesk's, expertise in the management of drug planning and regulatory consulting for cell therapies and gene therapies.
Sponsored by McCullough Robertson, this award is presented to an individual that has made significant contributions to the performance and success of the Queensland life sciences industry with a demonstrated breadth of impact across the sector. The GENE Awards is a prestigious biotech industry event attended by key life sciences leaders from Australia, North America, Europe and Asia.
CNS COO Gabrielle McKee said she was extremely pleased to be recognised by industry partners and colleagues for bringing cutting edge biomedical science to the region:
"We have been humbled to see the difference in patients' lives through access to novel medicines and devices in clinical trials, while creating employment opportunities for highly qualified Regulatory, Biometrics and Clinical Scientists consulting to the global biopharmaceutical industry" she said.
Novotech has made significant investment in clinical consulting services aimed at supporting the research and development plans for its biotechnology customers.
In 2018, Novotech acquired Clinical Network Services to deliver specialist support to biotechnology companies from around the globe needing regulatory services as part of their drug development program.
BioDesk offers its clients one of the most experienced and cohesive regulatory, CMC and toxicology expert groups available.
BioDesk is highly regarded for expertise in designing biotech clinical development plans including for vaccines, stem cell therapies, cell and gene therapies, immunotherapies, ADCs, antibodies (incl. MAbs), GMOs, peptides and recombinant protein products.
It also offers an in-house Institutional Biosafety Committee (IBC) and has a strong track-record of successes helping biotechnology companies with their cell therapies programs and GMO programs including:
Develop a clear regulatory, pre-clinical and clinical strategy
Optimize manufacturing process to meet GMP and clinical development requirements
Build toxicology package
Engaging with regulatory bodies including with FDA with pre-IND meetings
Cell therapies have unique requirements and many are region specific involving:
Manufacturing
Storage
Import/export
GMO regulation
Cell and tissue regulations
The Novotech group has built strong competence over more than 20 years to provide CRO services across many therapeutic areas. These include infectious diseases CRO services, vaccines CRO services, oncology CRO services and Orphan and Rare disease CRO services.