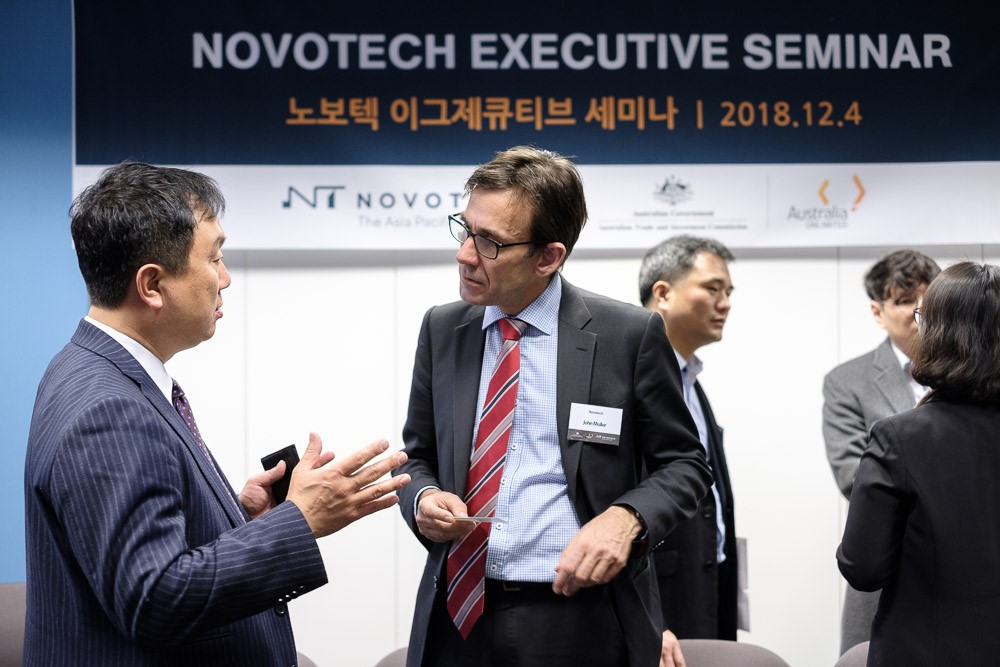 Asia-Pacific specialist CRO Novotech presented Australia's R&D Refund and Simplified Regulatory Environment as a Gateway to Asia at a Government and industry event in Seoul, South Korea.
Novotech, the recipient of the 2018 Frost & Sullivan Asia Pacific Biotech CRO Company of the Year award for the 3rd consecutive year, has been operating in the Asia-Pacific for 22 years.
The new data was designed to inform biotech firms about the benefits of running trials in both Australia and the Asia-Pacific.
Novotech CEO Dr John Moller presented the data at OCT East Asia and at an Australian Government Austrade event this month in South Korea, sharing the latest financial and regulatory benefits of Australia and Asia clinical trials.
Dr Moller said many Novotech clients achieve success with a Novotech-lead regional approach where they take advantage of the Australian tax breaks of up to a 41% rebate and the advanced medical and research facilities, while expanding into Asia to access the significant populations, speed, and high-quality research.
Australia is 28% cheaper than the US before the tax incentive and 60% cheaper after the tax incentive.
He said, in addition, Novotech can assist with identifying tax incentives and support in many of the Asian countries where Novotech operates.
Novotech is a full service CRO with on-the-ground operationsin Australia, New Zealand, South Korea, China, Taiwan, Philippines, Hong Kong, Singapore, Malaysia, Thailand and India with 550+ full-time employees.
Novotech clinical staff numbers have grown by more than 20%, fueled by demand for a regional CRO with international accreditation and reputation, combined with local knowledge, partnerships and expertise.
The CRO has extensive therapeutic area experience handling clinical studies with small and mid-size biotechnology companies across all phases of clinical trials – First-in-Human (FIH) studies to phase IV. Novotech has managed around 700 projects including the APAC component of pivotal trials for multiple FDA, EMA registered products since 2001
Novotech has now signed 10 strategic collaborations with hospitals and research institutions in the Asia-Pacific region.
About Novotech - https://novotech-cro.com/welcome
Headquartered in Sydney, Novotech is internationally recognized as the leading regional full-service contract research organization (CRO). With a focus on clinical monitoring, Novotech has been instrumental in the success of hundreds of Phase I - IV clinical trials in the Asia Pacific region.
Novotech provides clinical development services across all clinical trial phases and therapeutic areas including: feasibility assessments; ethics committee and regulatory submissions, data management, statistical analysis, medical monitoring, safety services, central lab services, report write-up to ICH requirements, project and vendor management. Novotech's strong Asia Pacific presence includes running clinical trials in all key regional markets. Novotech also has worldwide reach through the company's network of strategic partners. 
Novotech CEO Dr John Moller (centre) at the industry presentation in Seoul, South Korea.