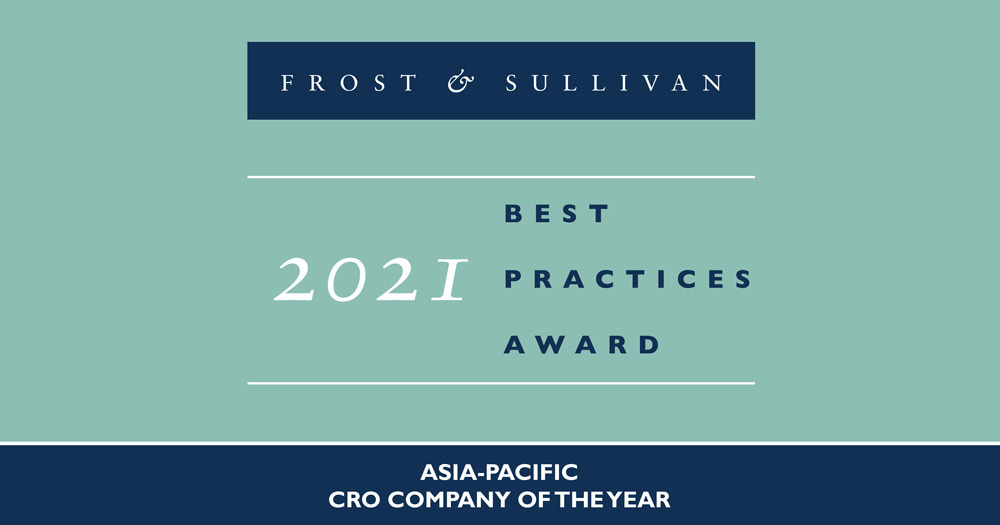 Novotech Health Holdings Pte. Ltd. ("Novotech"), the largest biotech specialist CRO in the Asia-Pacific region, has been awarded the '2021 Asia-Pacific CRO Company of the Year Award' by Frost & Sullivan. This is the fifth consecutive year that Novotech has been recognized with the prestigious CRO regional award. 
Award recipients are selected after extensive research and market analysis by the Frost & Sullivan industry team.
According to Research Director- Healthcare & Life Sciences Frost & Sullivan, Unmesh Lal:
"Novotech delivers unparalleled, end-to-end clinical development services for Asian and Western biotech and small and medium biopharmaceutical companies.
With its strong footprint across the Asia-Pacific region, the company is in a unique position to overcome challenges in patient recruitment and retention. 
With its rapid growth, strategic partnerships, and high level of customer satisfaction, Novotech positions itself as the Asia-Pacific CRO of choice for global and small and medium biopharmaceutical customers."
Novotech CEO Dr. John Moller said the Novotech team was excited to again be recognized as the biotech-specialist CRO leader in the Asia-Pacific region.
"This is the result of a lot of hard work by the teams across the Asia-Pacific region who go above and beyond to deliver for our biotech clients conducting clinical trials in APAC," said Dr. Moller.
"The award is also a recognition of our local knowledge across the Asia-Pacific regulatory and clinical processes, our proven networks with specialist clinical leaders and organizations and our significant investment in data and technology enablement of clinical trials. All of which benefit our biotech clients in their efforts to rapidly bring new therapies to market"."
The Asia-Pacific region is the fastest growing region in the global CRO market, offering access to vast patient populations, quality data and expedited regulatory processes.