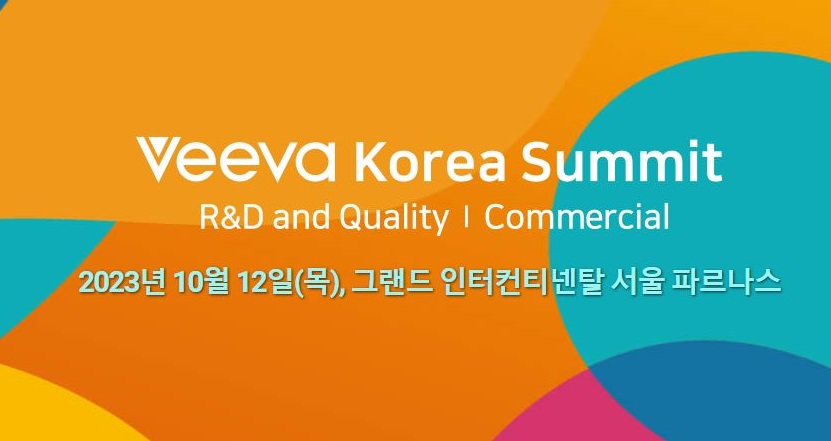 Location: Grand Intercontinental Seoul Parnas, Seoul, South Korea
Event description:
Join Novotech at the 2023 Veeva Korea Summit, taking place on the 12th of October at the Grand Intercontinental Seoul Parnas in Seoul, South Korea.
You won't want to miss the joint presentation by Dr. Yooni Kim, Novotech's VP of Clinical Services, and Eunho Shin, Senior Vice President of Veeva Asia Clinical Data Strategy on "Veeva R&D Development Innovation as a Unified Clinical Suite Ecosystem at Novotech". This presentation shares Novotech's journey to integrate clinical systems and build an ecosystem, and how we partner with Veeva to strengthen Novotech's clinical services capabilities.
The event is the largest summit in Korea, covering the entire biopharma industry, from R&D in clinical, manufacturing, licensing, and pharmacovigilance to commercialization. The main objective for 2023 is to share industrial cloud innovation cases and solutions supported by Veeva, which is positioning itself as the best partner for drug discovery.
Novotech offers a range of services through our Drug Development Consulting team. From CMC/manufacturing expertise to toxicology guidance and FDA regulatory consultancy, we've got you covered. Our strategic support is designed to help you reach critical milestones, including a swift entry into phase 1 trials. As the leading Asia Pacific centred Biotech CRO, Novotech has established deeply knowledgeable clinical teams in South Korea.
Speaking Engagement-
Date & Time- 12th Oct at 11:50 am.
Speaker: Dr. Yooni Kim, VP of Clinical Services
Topic: Veeva R&D Development Innovation as Unified Clinical Suite Ecosystem at Novotech.
Schedule a meeting with our attendees
Meet Our Team
Novotech
Yooni Kim
Novotech
Vice President Clinical Services
Plus Senior team members from our Novotech China, Client Operations, Novotech DDC and US and European BD teams